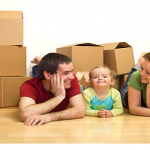 As hard as an upcoming move may be on you, it can be even worse on your children. Since they are likely to be very attached to their familiar surroundings, they probably won't be too excited about having to leave their friends, school, and hometown. Moving with kids can be especially challenging, since they might not understand your reasons for relocating.
Before the Move
One of the best ways to prepare your kids for the move is to get them involved in it as much as possible. Try as best as you can to explain why you need to move. Though they may not accept the reasons right away, it is still worth it to convey that the move is in the family's best interest. The following are some other tips to prepare your kids for the move:
• Make sure your kids understand that just because they are moving away, they don't have to forget about their friends. They can keep in touch by phone, e-mail, instant messaging, and, even through old-fashioned, hand-written letters
.• Another way to try to get your kids on board for the move is to let them participate in the home-finding process. Bring them along and ask for their input. By letting them have a say in where you move, they will feel more in control of the situation.
Although it may be a tough sell no matter what, you really need to stress the benefits of your relocation. Your kids might not like the idea of moving, but, by following the tips above, the move might be somewhat easier for them.
During the Move

Getting your kids excited about your move can be quite a challenge; keeping them safe, entertained, and in good spirits on moving day might be just as challenging. Fortunately, there are plenty of ways to keep your children safe and happy throughout the move.
As you will have plenty of other things to worry about, you may decide to leave young children under the care of someone else as you pack up and get ready. You can drop them off at the home of a friend, relative, or trusted babysitter. If your kids are older, then you can let them help you with the move. They can help in packing the stuff in their rooms. Depending on their age, you may even let them help in lifting the boxes and bringing them into the moving van.
Before you get into the car to drive to your new home, create a box that will be traveling with you. This should include all of the things your kids will need, especially if you're undergoing a long journey. Pack some of your kids' favorite toys and games, a few snacks, any medications, and a change of clothes. Having these items on hand will be helpful as you drive to the new home, and this will allow your kids to have their favorite things on hand as you move in.
As you drive, you'll want to make several stops along the way. Aside from the usual bathroom and food stops, you might want to stop at local attractions. Your kids will probably be excited about the prospect of a special side trip or two as you drive to the new home. If you have an infant or very young children, you'll want to consider their feeding and sleeping schedules and keep this intact, if possible. Also, remember to build in extra time for diaper changes!
After the Move

Even after you get to your new home, the challenge of relocating with kids isn't over. Since they will be in an unfamiliar home in a new town, you'll want to do everything you can to help them get adjusted. Below are some tips for doing just that.
• Setting up the Bedroom – Since the decision to move is mostly out of their hands, you can let your kids decide how they want their bedrooms to look. Since your kids' rooms are their refuges, letting them have a say in decorating them can help them adjust. Of course, using the same bed and other furniture from their old rooms may make the transition easier as well.
• Routines – Almost everyone, including children, takes comfort in routines. Try to reestablish the routines from your old home as much and as quickly as possible. After you have unpacked everything and things quiet down, try to return to normal mealtimes, bedtimes, and playtimes. Returning to a structured life will help both your kids and you deal with the move.
• Exploring the Neighborhood – Another way to help children get adjusted is to explore your new surroundings together. Search for places of interest in your new town, like restaurants, parks, ice cream parlors, and other at tractions and check them out as a family. You can also take your kids along on daily errands, as this will allow them to become more familiar with their new setting.
• Making New Friends – The process of making friends can be hard for kids, but there are steps you can take to make it easier. You may want to set up play dates for younger kids by getting in touch with other parents, either those who have children in the same school or through co-workers or other contacts. For older kids, en rolling them in local sports teams and other activities can be a great way for them to meet kids with similar interests.
In addition to the above tips, one of the best things you can do for your kids after you move is to communicate with them throughout the entire move. Be sure to ask them about their feelings and how they're handling the adjustment. Since moving to a new home is a huge change for the entire family, you can share your feelings with them as well.